ROH – Teletalbis [Single, 2022]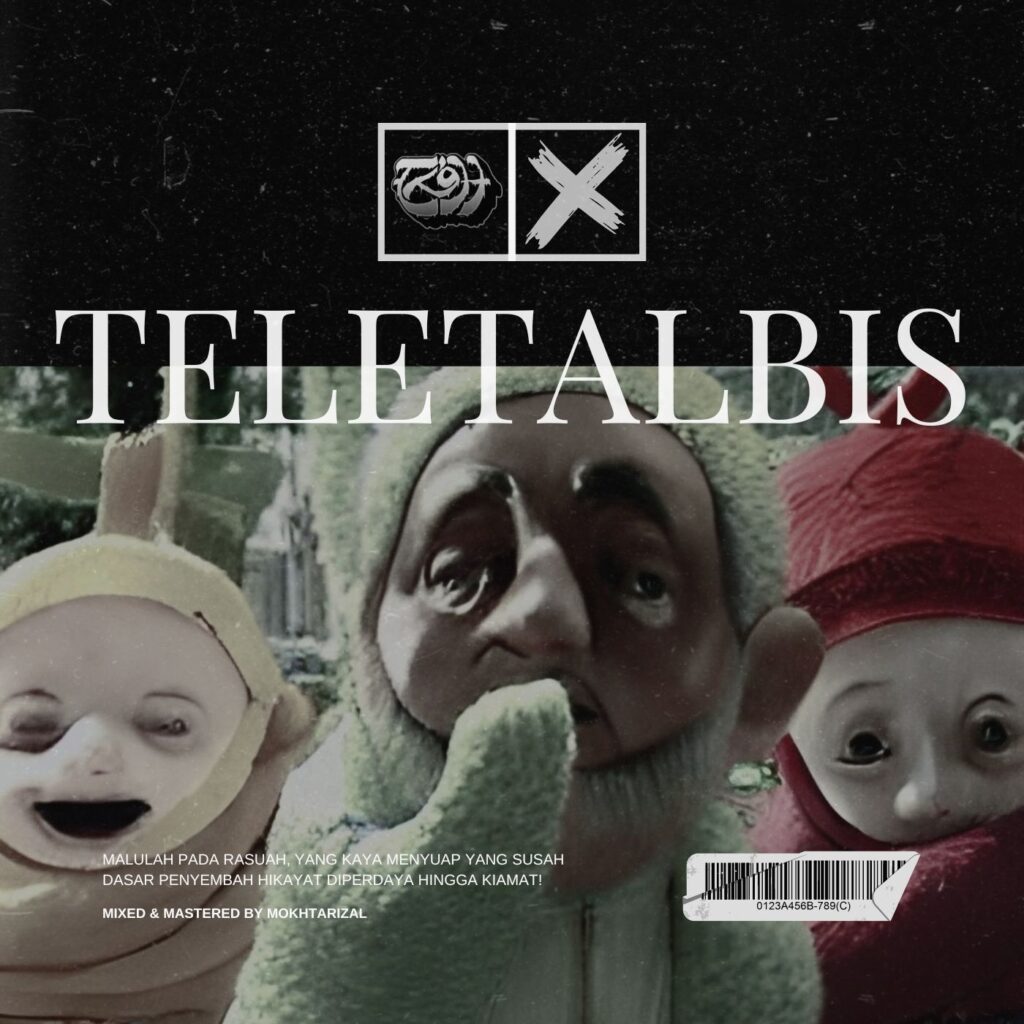 Trio misteri Progressive Rock/Black Metal/whatever, ROH telah kembali dengan single baharu yang menemui pendengar pada hari Pilih Raya Umum ke-15 yang lalu. Berjudul Teletalbis, ia merupakan kesinambungan terus daripada Joget Ilusi dengan penambahbaikan dari segi idea dan execution yang buat saya jadi terpesona pada pendengaran kali pertama.
Teletalbis merupakan satu kritikan terhadap korupsi dan kepimpinan yang mengamalkan rasuah serta rakyat kebanyakan yang enabled sikap sebegini. Dengan lirik ditulis indah dan sinis, ia bagaikan relentless salvo yang tidak mengecualikan sesiapa pun yang berada dalam lingkaran rasuah dan korupsi. Kena pulak dikeluarkan sewaktu hari mengundi, Teletalbis terasa bagaikan satu peringatan untuk break the cycle.
Musicwise, Teletalbis lebih exciting dengan opening ala muzik Borneo sebelum gitar dan dram menerjah masuk. Saya mendengar bunyi Hammond organ menyelit yang mengingatkan saya kepada Opeth dan Deep Purple. Kemasukan elemen Black Metal kali ini lebih prominent dah tidak lagi mengambil kedudukan di belakang dengan twin pedal membedal sedap, riff seakan 2nd Wave Black Metal dan vokal yang raspy mengawangi di pertengahan lagu memberi feel yang vicious dan sinister. Malangnya dram kedengaran terlalu digital atau diprogram. Tapi saya cepat terlupa isu ini apabila ada pulak gamelan masuk. Ugh, banyak sungguh elemen dimasukkan. Wait until you hear the harmonic vocals yang dilaksanakan dengan begitu cantik (diselit dengan death grunt) semuanya circling within Pop music sensibilities; catchy, memorable dan weird enough to get people go 'what the fuck was that'. Saya tak sabar nak mendengar full release ROH, now that 2 single mereka cukup promising untuk menarik pendengar. One thing for sure, kalau mereka bermain live show, saya berminat untuk tengok mereka dalam setting sebegini. I hope they can pull off this kind of music and theatrics!
Teletalbis kini terdapat dalam format muat turun digital.
FFO: Deep Purple, Rush, Zeal & Ardor, Satanic Warmaster, Satyricon, Opeth, St. Vincent