Ominous Ruin – Amidst Voices That Echo in Stone [Full Length, 2021]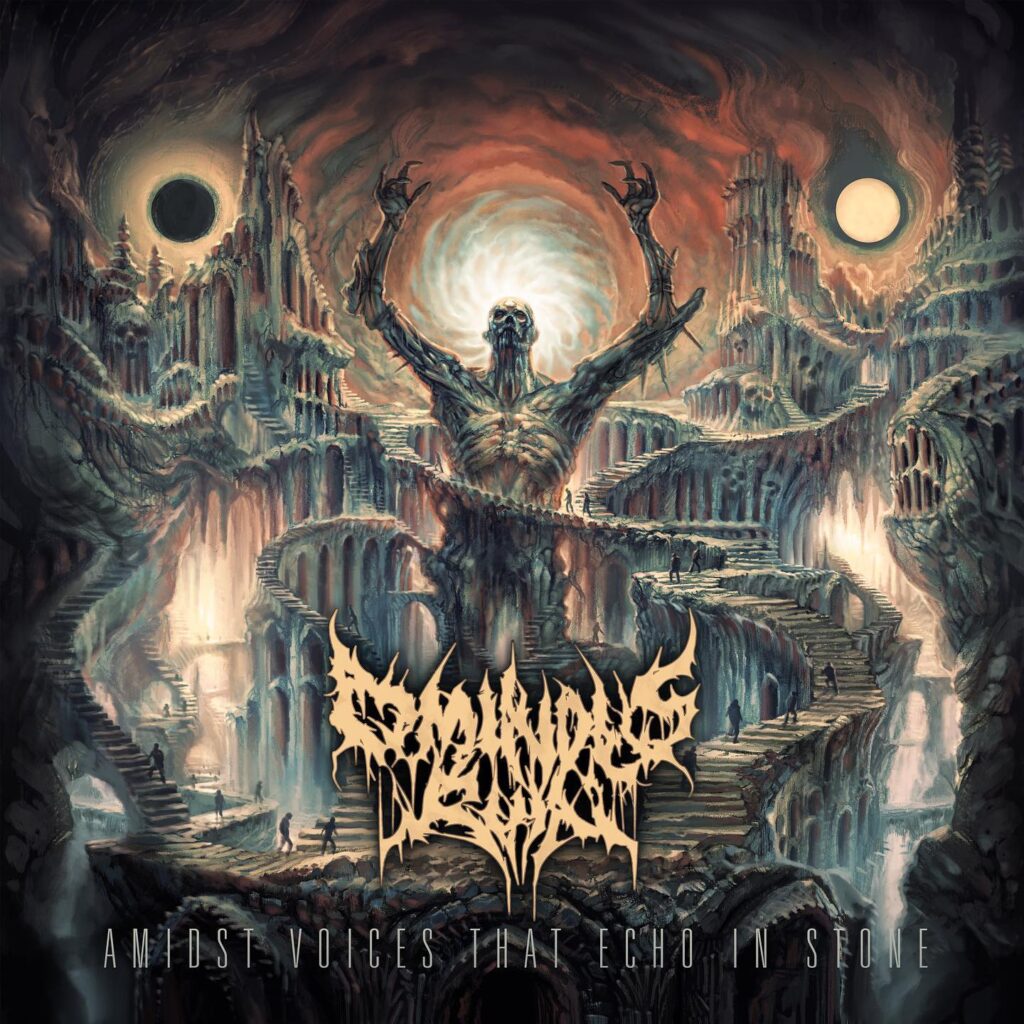 Garang tak bertepi betul ya album penuh sulung Ominous Ruin ni. Band Technical Death Metal dari AS ni baru sahaja mengeluarkan 'Amidst Voices That Echo in the Stone' yang terbit melalui Willowtip Records pada 26 Februari 2021.
'Amidst Voices…' menawarkan 9 trek yang highly technical serta chaotic yang buat mana-mana pendengar Tech Death jadi terangsang. Dengan guitar noodling yang melompat-lompat atas fret (yang almost too good to be played by human!) diseimbangkan brutality yang cukup rasa, 'Amidst Voices…' adalah catchy untuk dinikmati dengan permainan yang imaginative dan sukar dijangka. They couldhave just gone straight forward brutal and all, tapi memilih untuk menulis lagu-lagu dengan lenggok dan liuk yang menampilkan teknikaliti yang saya kira, agak nak show off jugaklah. But it was done tastefully.
Berlainan dengan sesetengah band Tech Death yang terlalu menumpu kepada teknik hinggakan terasa kurang umphhh keganasan Death Metal yang diharapkan (seperti Necrophagist), Ominous Ruin tetap agresif memecah pendengaran menggunakan riffs yang chunky (ada masa dissonant juga), diperhebat pula dengan drumming yang abrupt menukar tempo dan dinamik (laju gila pulak tu!). Terdapat jejak Jazz dan progressive dalam beberapa track, namun tidaklah mengambil cetre stage, sebaliknya sekadar flirt around sebelum kembali meletup kepada face kicking brutality yang menggegar kepala otak. Dengarkan saya raungan vokal yang monstrous serta punishing diiringi 8 string guitars dan 6 string fretless bass, aduh, saya memang cukup teruja dengan songwriting mereka yang relentless tapi fun untuk didengar.
Amidst Voices… kini terdapat dalam format CD, piring hitam dan muat turun digital.
FFO: Odius Mortem, Origin, Necrophagist, Defeated Sanity