Evil Incarnate – Depopulation Agenda [Full Length, 2020]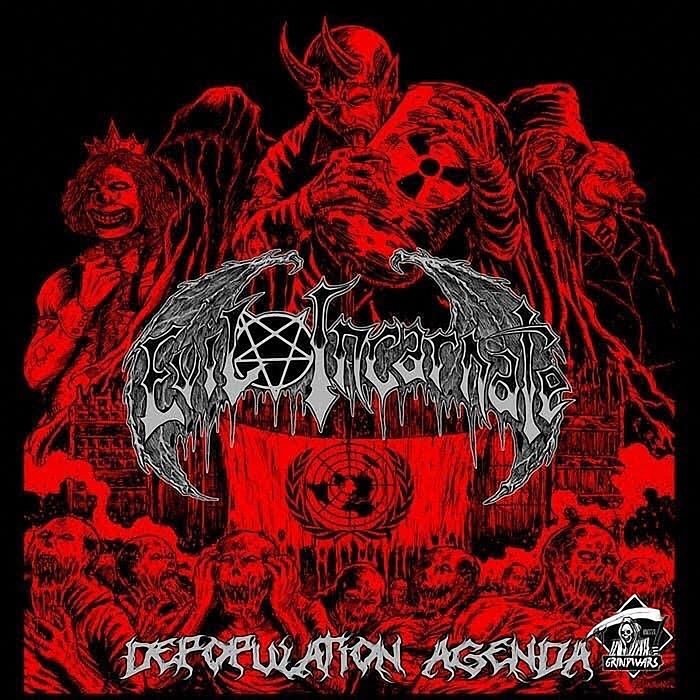 Evil Incarnate adalah sebuah band Black/Death metal  dari USA dengan musical theme yang ke arah satanism, kesesatan, kebencian terhadap umat manusia dan kemusnahan. Sebuah band yang jahat dari segi arrangement lagu, Depopulation Agenda menampilkan lyrical message yang cukup misanthropic dengan unsur benci-membenci dengan vocals berkahak hijau pekat, cukup keras diapit pulak dengan riffing guitar yang tajam beserta drum brutal serta bassline berat nak mampus. Ini bukan band biasa biasa yang hanya jahat pada music, aku percaya mereka ni memang practice pure black/death metal lifestyle. Elite. Bukan nerdy metal keyboard warrior yang kita selalu jumpa dalam youtube tu. They are the REAL DEAL. Hatred flows throughout the whole album, and the album is an absolute killer!
Favourite track: Killed By the Lions. Groovy, tight dan kejam. Riffing gitar berat gila dan aku cukup suka arrangements lagu ni. And the guitar solos in this track is on point! This is not for the new guys who had just started listening to metal ya. Kau pergi main jauh-jauh.
Honestly,  Evil Incarnate adalah sebuah band lama yang baru aku dengar, and they do deliver good fucking death metal. Really wished I had discovered them sooner. I'd rate them 9/10. Excellent. Play album ni dalam kereta dan kau sure akan marah-marah punya haha.
Hail Evil Incarnate!
Depopulation Agenda kini terdapat dalam format CD, kaset, dan muat turun digital.
FFO: Deicide (old), Krisiun, Vital Remains