Alchemy of Flesh  –  Ageless Abominations [Full Length, 2021]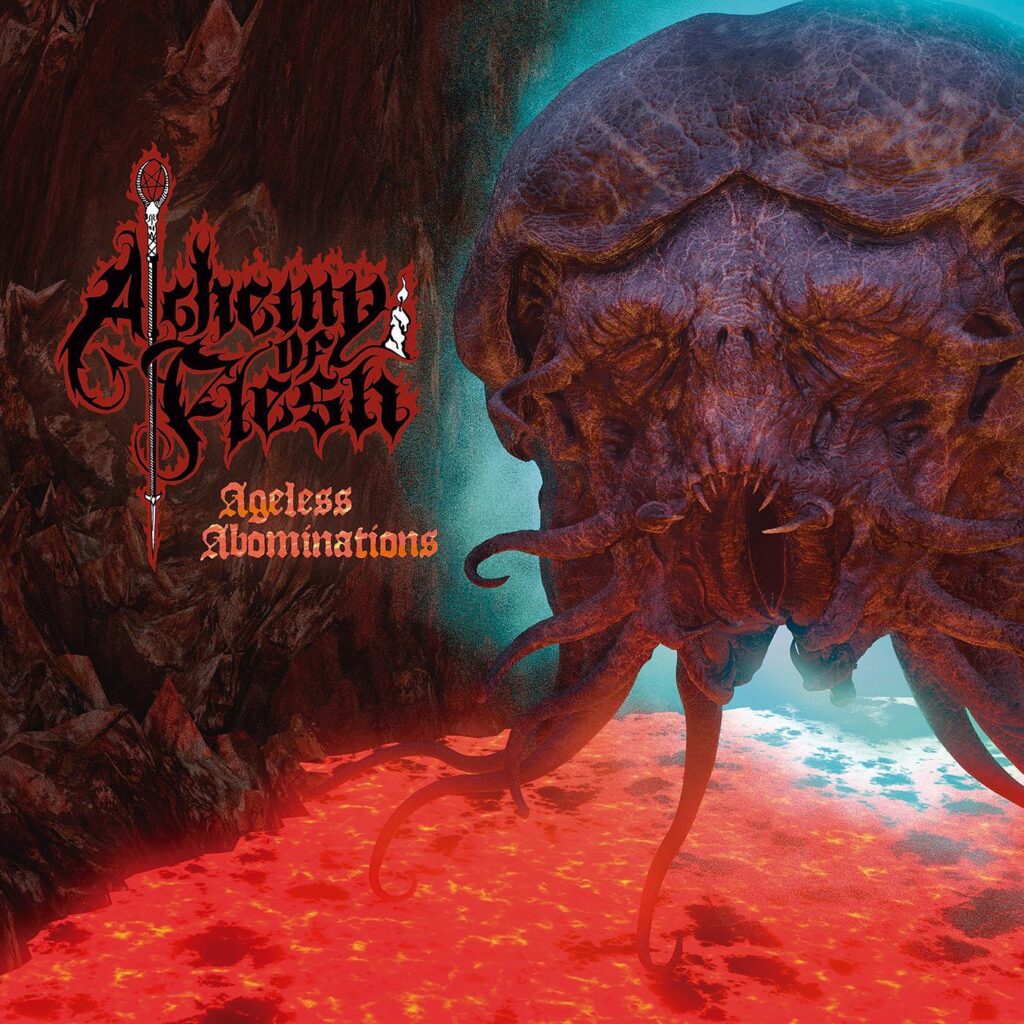 Alchemy of Flesh adalah sebuah solo project digerakkan oleh seorang individu bernama Tim Rowland yang cukup obses dengan Florida Death Metal. Album Ageless Abomination dikeluarkan melalui Redefining Darkness Records ini cukup istimewa kerana Rowland sendiri yang memainkan semua instrument dari drum, bass, gitar dan vocals.
Kaya dengan pengalaman band band sebelumnya, idea dan arrangement riffing lagu yang jahat dengan mid paced chug yang terang terang dipengaruhi oleh Trey Azagthoth dari Morbid Angel. Rowland menggunakan equipment yang sama seperti idola beliau, Ibanez Universe 7 string + Marshall JCM 900 yang merupakan resepi asas tone Morbid Angel. Obviously Rowland memang gifted untuk compose lagu-lagu Death Metal yang technical, doom & tak monotonous. Pattern drum berinspirasikan Pete Sandoval dan tak lupa, vocal yang sinister ala Steve Tucker/Erik Rutan. Sentiasa ada part yang tak cliche, idea Alchemy of Flesh ni memang best. Bukan senang nak compose lagu style Morbid Angel ni, some more dia rekod sorang pulak tu. Terus terang aku cukup excited dengar rilis ni.
Favourite track aku adalah Sleeping Chaos dan Knotters of Entrails. Yes, Heavily influenced by the death metal elite but Alchemy of Flesh manage to maintain song originality. Excellent composition and recording feels organic yang super tight. Don't sleep on this. Korang terlepas, korang rugi.
Ageless Abominations kini terdapat dalam format CD, piring hitam dan muat turun digital.
FFO: Morbid Angel, Hate Eternal, Incantation