Wounds Of Old – Visions of the Blind Eye [Full Length, 2020]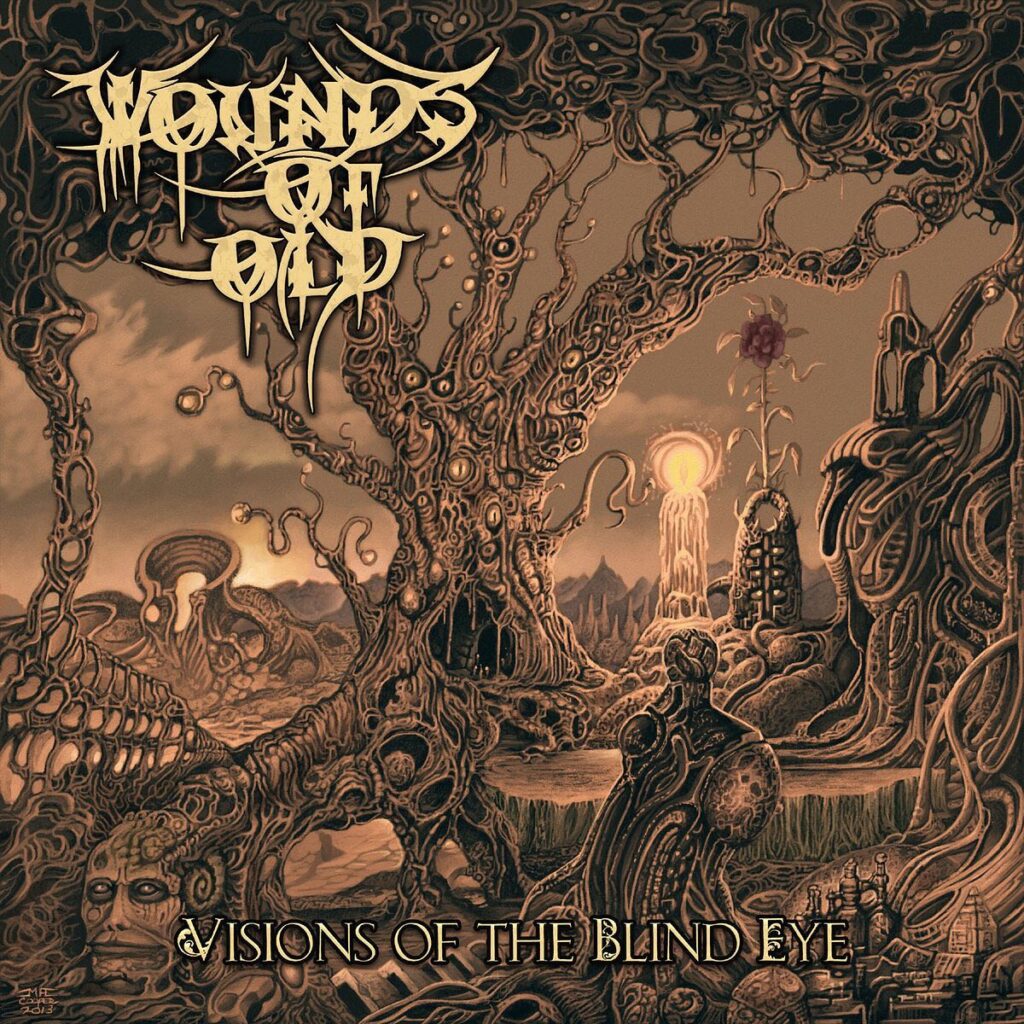 Era 90an menyaksikan genre Doom/Death Metal berkembang dengan band-band antaranya Paradise Lost, Anathema, My Dying Bride dan Katatonia mengeluarkan terbitan yang berpengaruh dan mencorak direction Doom/Death Metal. Wounds of Old pula merupakan generasi baharu Doom/Death pasca millennium yang ahlinya terdiri daripada keahlian pelbagai negara. Visions of the Blind Eye merupakan keluaran sulung mereka melalui ARCHAIC SOUND pada hujung 2019 (format digital) dan sekali lagi pada 2020 (format fizikal).
Visions of the Blind Eye sebenarnya seakan homage kepada Peaceville 3 (Paradise Lost, My Dying Bride, Anathema) dan juga Theatre of Tragedy serta Amorphis di awal karier masing-masing. Penyebab saya berkata demikian adalah kerana vokalnya mengingatkan saya kepada Darren White (vokalis Anathema di awal material mereka), sound dan teknik gitar berinspirasikan Gregor Mackintosh dan Aaron Aedy (Paradise Lost), serta elemen sayu & gothic Theatre of Tragey dan Draconian. For some reason semua ini disatukan dengan baik, menjadikan Visions of the Blind Eye terbitan yang meletup, garang dan feel yang unghhh.
9 trek terasa panjang namun compensated dengan brilliant songwriting yang berkiblatkan nama-nama saya sebut di atas. Ia takdelah original, namun ia stay true kepada the originators dengan bijak mix and match influences menjadikan Wounds of Old bagaikan Frankestein of Doom/Death Metal; put together from different elements but freakishly good and enjoyable. Senang cakap, macam dengan terbitan Doom/Death zaman 90an lah dengan slightly better production. Saya recommend kepada kaki Doom Metal semua.
Visions of the Blind Eye kini terdapat dalam format CD dan muat turun digital.
FFO: Paradise Lost, Anathema, Theatre of Tragedy, Tristania, Katatonia