Hello! We have news from domestic and international markets.
Malaysia Eastern Oi! veterans, A.C.A.B is set to take stage this 30th July 2023 at the Paddock, Petaling Jaya for Eastern Oi! The Rarities compilation launching party. The show will feature classic A.C.A.B line-up alongside other veteran and newer Oi! bands such as Steeltoe Solutions, Zero One Heroes, The Hard Crop's, The Lads, and The Murphy. Max Mohammad, guitarist/vocalist encourages fans to purchase pre-sale tickets as buyers will be qualified for a lucky draw of A.C.A.B members' personal memorabilia. The show will also hold a Meet & Greet session, so be sure not to miss this! Tickets can be purchased here or send a Whatsapp message to 0196955634.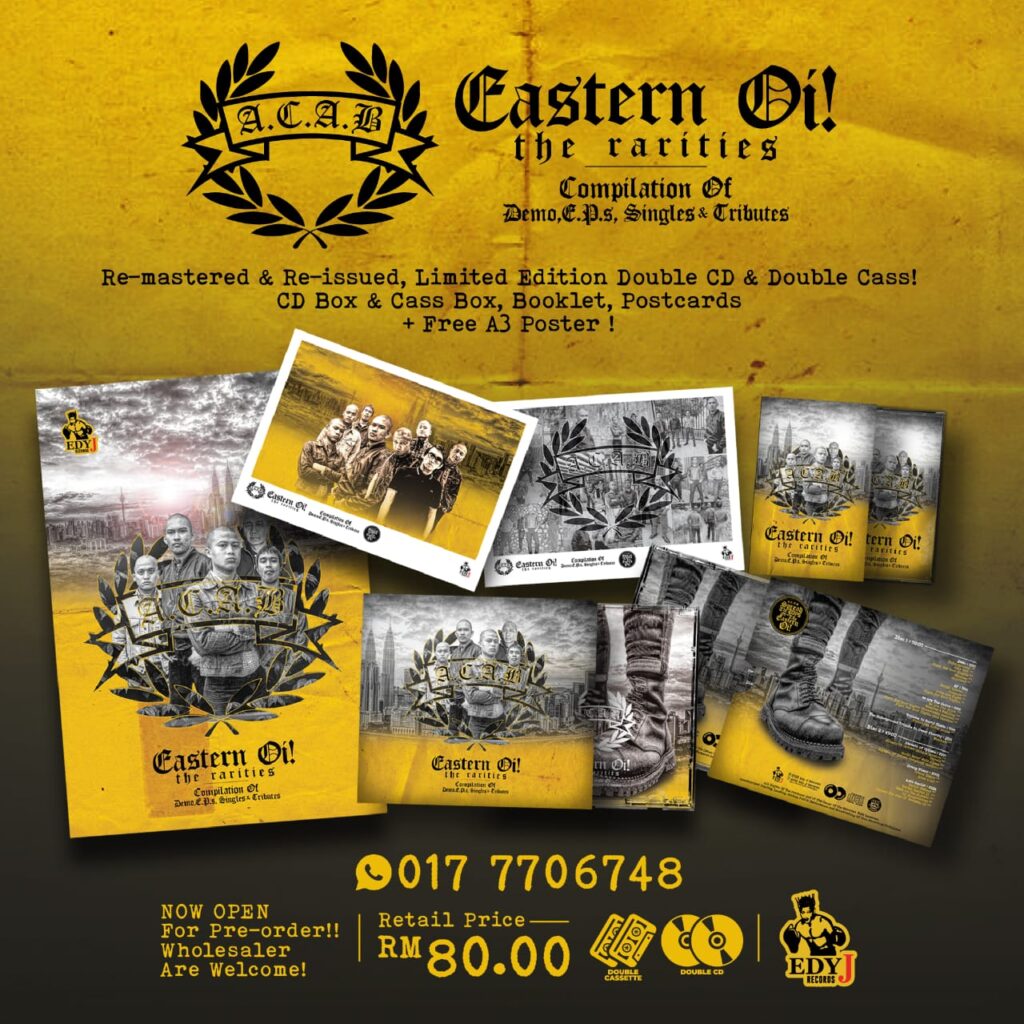 Eastern Oi! The Rarities compilation consists of demo, EP, single and tribute tracks across their 30 year career. Available in double CD or tapes, boxed CD or tapes and will include FREE postcard and poster for RM80 via Edy J Records. Pre-order your copy today, simply send a Whatsapp message to 0177706748.
On the other hand, Grindcore powerhouse, GRIDLINK bitterly resume a campaign of incomprehensible anger with their fourth album – Coronet Juniper via Willowtip Records. Eleven relentless tracks, consumed with unending conflict, turn the ground to ash beneath them as they advance, meter by meter. The primary architects return with the following line-up: Matsubara Takafumi – guitar, Bryan Fajardo – drums, and Jon Chang – vocals. Joined now by Mauro Cordoba – bass, GRIDLINKS's poisoned arteries draw from Discordance Axis, Mortalized, Cognizant, Maruta, and Sex Virgin Killer, among others.
FOSSILIZATION, one of the most acclaimed and praised newcomers in the underground recesses of the contended and highly demanding Death Metal feud, are finally back with their first full album 'Leprous Daylight', their most crushing and brutally wrenching release via Everlasting Spew Records! 8 new savage tracks soaked in doomy despair, maliciously crafted and fiercely executed, a must have for all the fans of the Brazilian band and the whole Death Metal genre!
"I started working on 'Leprous Daylight' right after the recordings of the split with Ritual Necromancy. I knew I wanted to take a different direction with this full length album, it had to be faster and brutal as much as I could but without compromising my songwriting. I think Leprous Daylight is Fossilization's most violent effort so far but still full of the melancholy and sadness you have been used to with our previous releases." (V.)