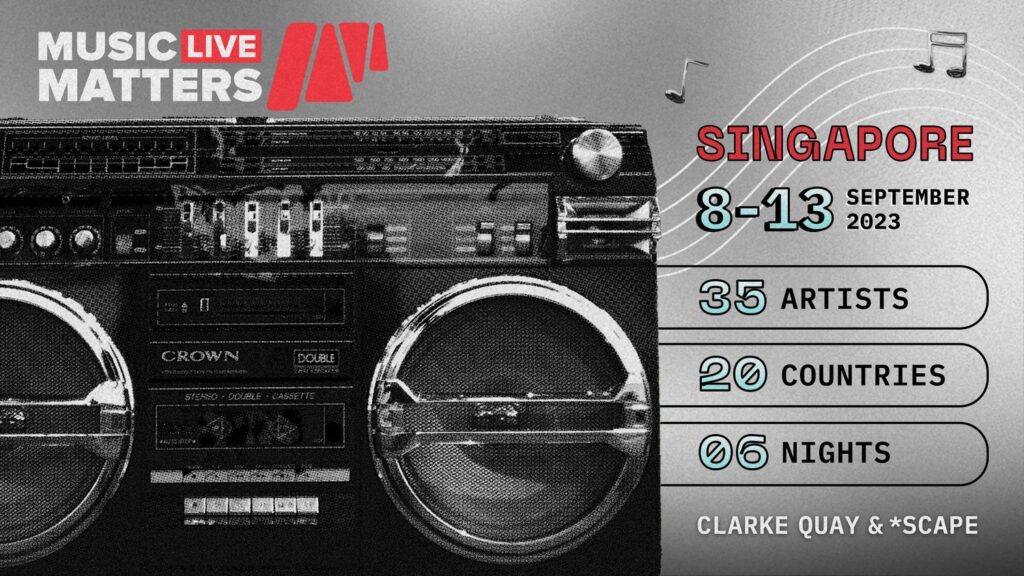 Hello! Some news from international market.
Music Matters Live 2023, the free music festival that runs alongside the All That Matters entertainment industry conference, will take place for 6 nights from Friday 8 – Sunday 13 September.
Kick starting the festival is Music Matters Live @ Clarke Quay from Fri 8 Sep – Sun 10 Sep. Headlined by Singapore's own Benjamin Kheng, the stage boasts a dazzling line up on Friday including Nathan Hartono (SG) , Sezairi (SG), Paige (NZ), Teddy Adhitya (ID), followed by electrifying sets on Saturday & Sunday by Love X Stereo (feat. DA1SY DØØM) (KR) , KIRE (TW), Mauvey (CA/UK) and a premiere of duo NIGHTONLYSTUDIO (Gummy B and wannasleep)from Taiwan.
Next week on Mon, 11 Sep, it's MUSIC MATTERS LIVE SELECTS featuring top picks of global emerging artists from across the globe LIVE at *SCAPE Ground Theatre including Teddy Adhitya (ID), Love X Stereo (feat. DA1SY DØØM) (KR), critic's choice Mauvey (CA/UK), Nadav (IR), Boo Seeka (AU) and festival crowd favourite Kalpee (TT). Music Matters Live Selects will also feature drinks from ecoSPIRITS and Proof & Company (more info below).
Following that, Warner Music Presents continues on Tues, Sep 12 at The Ground Theatre at *SCAPE featuring 8 UNMISSABLE music acts that are the region's hottest Warner Music signings, including Asia's biggest multi-talented DJ/Producer/singer-songwriter; Korea's own SHAUN, China's newest chart-topping number 1 Hip Hop star thomeboydontkill, P-Pop sensation FELIP, who's hit single 'ROCKSTA' has racked up over a million streams to date and Vietnam's Indie-darling Vũ, who has the most streamed Vietnamese album on Spotify last year and has garnered over a million monthly listeners on Spotify, as well as Abus阿布絲 (TW), LUSS (TH), Paul Partohap (ID) and yonawo (JP). Warner Music Presents will also feature drinks from ecoSPIRITS and Proof & Company.
Rounding off the festival on Wed, Sep 13 are 2 showcases – Girls Night Out and ONErpm Presents: FUNYOUCANFEEL. The Main Stage at Clarke Quay will make way for a celebration of some of the best new female artists from across APAC and beyond in Music Matters Live's Girls' Night Out such as Singapore's own energetic rapper J.M3 and singer-songwriter RENE, along with Claudia (MY) whose catchy pop tunes caught the attention of BTS's Jungkook, Saudi-based indie singer Fulana (SA), rising star in the Australian music scene BIRDEE 王煒 (AU), singer-songwriter Paige (NZ) and Korean electro duo Love X Stereo (feat. DA1SY DØØM) (KR). We then move over to the final showcase of the festival – ONErpm Presents: FUNYOUCANFEEL at Yang. With a prodigious international lineup featuring Ethan Low, CLAUDIA (MY), lostspaces (MY), CLUB BOYBND, KIRE, HNATA, and CHANKA, ONErpm Presents: FUNYOUCANFEEL is bringing Asia's up and coming viral popstars from your screens to Singapore.
Full info can be found here.