Karnivore – Dödsriket [Full Length, 2020]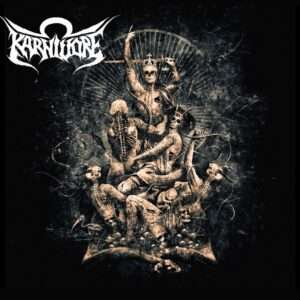 Selalunya apabila jenisan Death Metal dari Sweden, hanya ada dua kemungkinan saja. Sama ada OSDM (yang lebih kasar dan punk) atau Melodic Death Metal (yang lebih kepada gaya Iron Maiden-esque). Karnivore jelas sekali terletak di kategori kedua.
Dödsriket merupakan keluaran penuh ketiga Karnivore yang diterbitkan Southcoast Productions. Sebenarnya saya menjangkakan ini satu lagi album OSDM tapi nampaknya meleset sama sekali. 10 trek yang dihidangkan mempunyai stail bawaan Dissection dan Carcass serta ada bau Thrash sedikit.
Saya menyukai gaya melodi bawaan Karnivore yang cuba menggabungkan stail melankoli dan sinister yang almost seamless. Dengarkan saja trek kedua Empire of Filth yang mengingatkan kita kepada Dissection era The Somberlain dan Storm of the Light's Bane. Ada masanya macam Gates of Ishtar dan Necrophobic bercampur-campur pulak.
Jika anda tak pernah mendengar Karnivore (atau nama lama mereka, Karneywar) dan tak pasti sama ada patut dengar ke tak, percayalah gaya bawaan mereka adalah worth your time to check out. Bawaan Death Metal yang sinister/melankoli barangkali boleh menarik perhatian anda untuk layan seround dua. Saya berpendapat kemahiran muzik mereka tidak perlu dipertikai cuma perlu bekerja keras untuk menjauhkan diri daripada kelompok Swedish Death Metal yang ramai tahu dan familiar.
Dödsriket kini terdapat dalam format CD, piring hitam dan muat turun digital melalui Southcoast Productions.
FFO: Dissection, Necrophobic, Gates of Ishtar