Diabolizer – Khalkedonian Death [Full Length, 2021]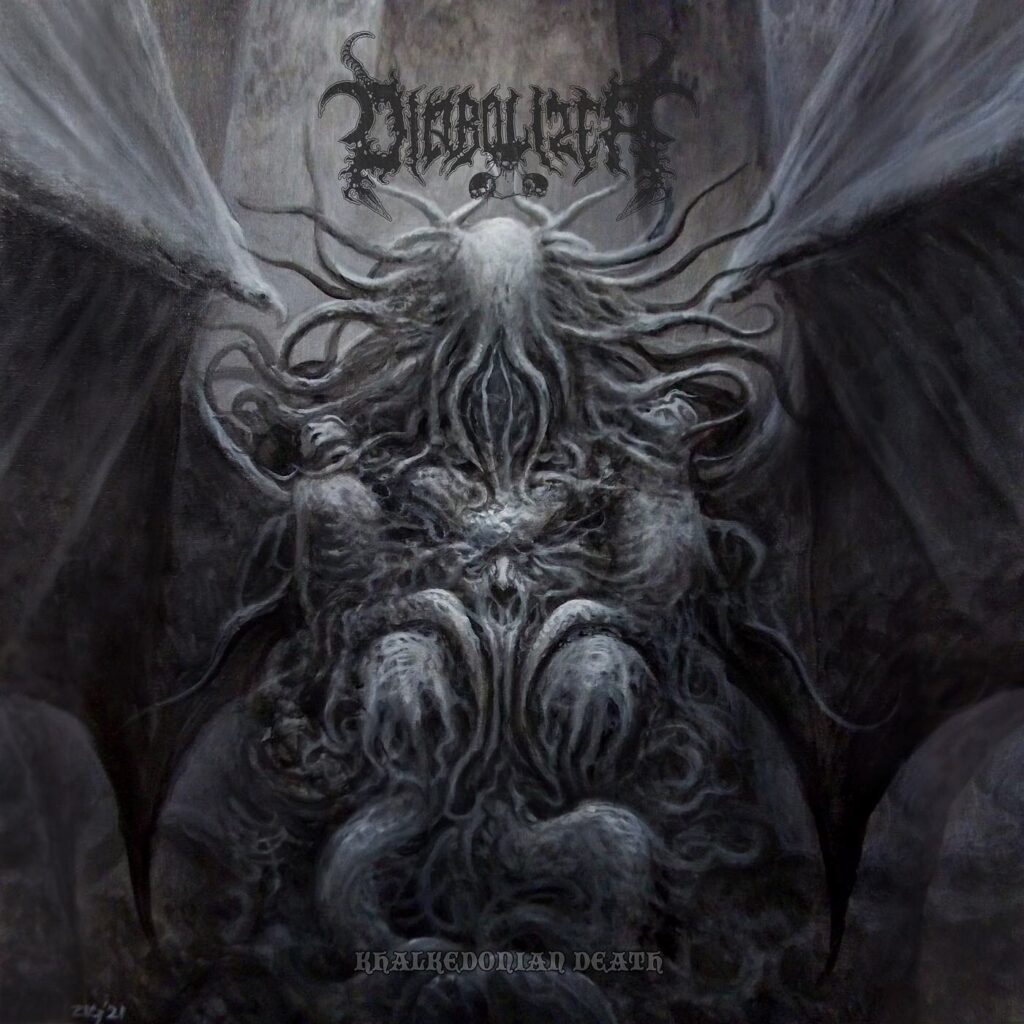 Rasa nak meletup kepala dengar keluaran terkini Diablozier, sebuah band Death Metal dari Turki. Album berjudul Khalkedonian Death ini merupakan album penuh pertama mereka yang terbit melalui Everlasting Spew Records dan Me Saco Un Ojo pada awal Julai 2021.
Ugh, where do I begin. It's such an intense record. Bermula dari trek pertama hinggalah menuju yang terakhir, Diabolizer mendemonstrasikan Death Metal bawaan mereka yang punishing, face-bashing dan kemampuan yang inhuman. Dram yang bertubi-tubi bagaikan mesin yang jitu, dengan riffs gitar yang percussive dan unforgiving (yet catchy) dengan laungan vokal cookie monster yang kelaparan mahukan korban membuatkan Khalkedonian Death bagaikan satu pengalaman Death Metal yang wholesome. Saya merasakan Diabolizer berpengaruhkan band-band utama Death Metal seperti Hate Eternal, Deicide, dan Severe Torture yang masing-masing terkenal dengan face melting brutality, lantas diterjemahkan dalam lagu-lagu mereka.
Khalkedonian Death adalah album yang solid dengan instruments yang asas tanpa bergantung kepada gimik (intro ambient atau weird stuff banyak band moden buat). Saya cukup appreciate dengan no frills Death Metal sebegini yang memaksimumkan peluang yang ada untuk menonjolkan kemampuan. 8 trek sudah cukup buat anda terkulai lembik dengan hampir semuanya mempunyai killer quality (untuk standard Death Metal). Khalkedonian Death adalah unstoppable monster dengan setiap trek increasingly getting crazier dan sinister. Album sulung Diabolizer ini adalah ear splitting, massive headache inducing tapi cukup cemerlang dilaksanakan yang boleh buat mana-mana pendengar Death Metal terduduk diam sampai habis album melalui permainan yang menggila dan dinamik yang mencengkam. Takdelah groundbreaking, but it gets you to ball up your fist and makes you want to punch anyone in your way. URGHH!
Khalkedonian Death kini terdapat dalam format CD dan muat turun digital.
FFO: Centurian, Sinister, Severe Torture, Hate Eternal, Deicide