Descent – Order of Chaos [Full Length, 2022]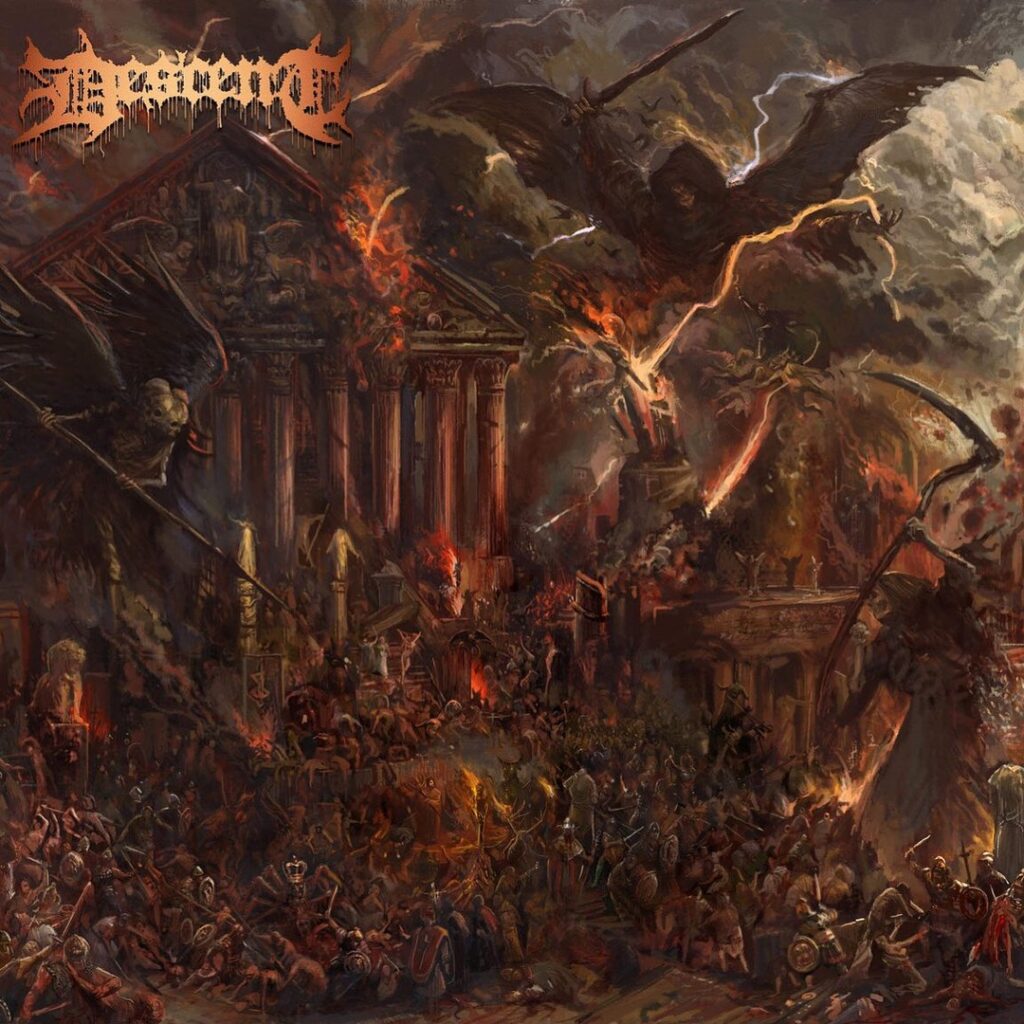 Geng HM-2 Death Metal/Hardcore Brisbane, Descent kembali lagi dengan head splitting, face melting album berjudul Order of Chaos. Ini merupakan album penuh kedua mereka selepas mengeluarkan Towers of Grandiosity pada 2018. Order of Chaos menampilkan approach yang lebih brutal, mature dan no holds-barred yang diterbitkan melalui Brilliant Emperor Records, Redefining Darkness Records dan Caligari Records.
Jika anda pernah dengar album mereka sebelum ini, anda akan sedia maklum gaya Descent yang berkiblatkan tone OSDM HM-2 yang tajam-tajam dan bagaikan gergaji menarah pokok. Album kedua ini dial everything up to 11 dengan uncompromised brutality dengan tempo lebih menggila, songwriting yang lebih in your face dan catchy AF. Malah saya berani katakan album ini memang all killer no filler. Saya takkan habis-habis bercakap mengenai tone ala Sunlight Studio mereka dengan intensity Grindcore bercampur Black Metal sikit di sana-sini bagaikan satu formula yang perfect untuk Death Metal tahun 2022. TLDR; mendengar Order of Chaos adalah seperti dilanggar keretapi.
Order of Chaos sememangnya true to its title menjarah pendengaran, striking fear into hearts and getting you metalheads worked up for a violent dance in the pit. Memang savage sekali album ini, dan jika anda terlepas, it's your fault. Dan jika anda tak mampu mendengar Order of Chaos, then you're weak. Chunky riffs, killer drumming dan pissed off vocals memang buat sesiapa saja naik darah dan ringan tangan nak memukul sesiapa saja di depan. This is one hell of an angry record. Trek kegemaran saya? Tiada. Kerana the whole album kills. Death Metal or die! Kita baru di awal Januari tapi saya dah temui Album of the Year saya. How about you?
Order of Chaos kini terdapat dalam format CD, kaset, piring hitam dan muat turun digital.
FFO: Dismember, Nails, Earth Rot, Dismember