Crypts of Despair – All Light Swallowed [Full Length, 2021]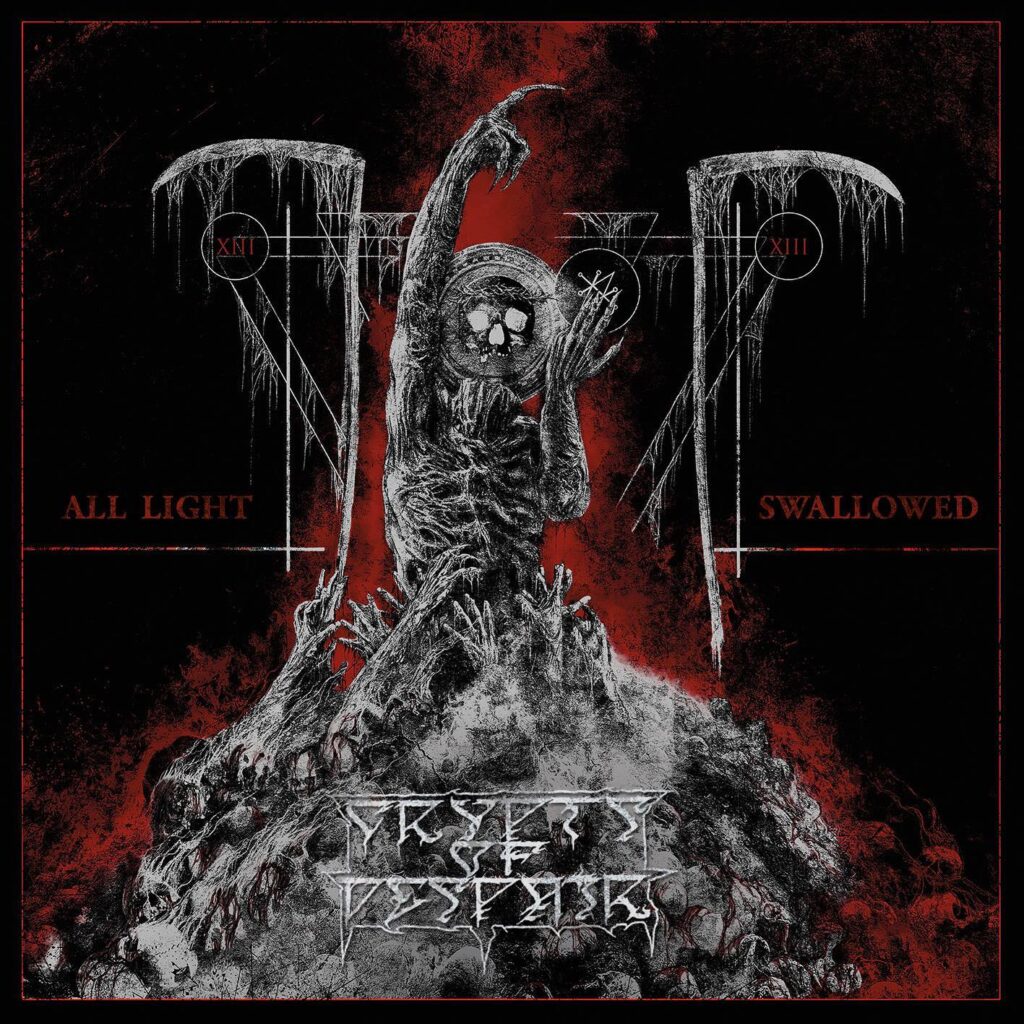 Geng Death Metal kental Lithuania, Crypts of Despair telah mengeluarkan album terkini berjudul All Light Swallowed melalui Transcending Obscurity. Album yang mempunyai 9 trek ini mempunyai durasi 37 minit yang penuh dengan sound yang devastating beyond imagination.
Pertama sekali, All Light Swallowed adalah terrifying dengan sound yang hellish dan dissonant. Gitar yang thick dan punishing memandu All Light Swallowed dengan permainan yang pummelling. Saya tak pasti sama ada gitar ditune rendah, namun overall sound All Ligjht Swallowed memang benar-benar berat ditambah pulak dengan dissonant sound yang merayau-rayau. Ini disokong dengan drumming yang bertalu membedil dengan blastbeats serta paluan pedal berkembar yang meletus-letus. Namun ada juga part yang perlahan seakan Doom Metal.
Yang kedua, vokal dalam All Light Swallowed membentuk karakteristik trek-trek dalam album ini. Deraman bernada rendah dan monstrous alternate antara mid to high scream memperkayakan mood album yang sedia ada devastating ini. All Light Swallowed adalah messy, namun bukan disebabkan permainan yang barai. Sebaliknya songwriting dan execution yang bersifat relentless membuatkan album ini a beautiful mess. Memang enjoyable dengan sound yang brutal dan mantap.
Secara jujurnya, All Light Swallowed adalah album yang excellently executed, dari permainan hinggalah kepada kualiti produksi yang top notch. Saya merasakan ada banyak lagi saya boleh katakan tentang album ini tapi macam biasalah, cakap banyak pun tak guna. Saya syorkan anda dengar sendiri album hebat ini!
All Light Swallowed kini terdapat dalam format CD, piring hitam dan muat turun digital.
FFO: Ulcerate, Incantation, Belphegor, Portal, Deathspell Omega, Morbid Angel