Carnation – Where Death Lies [Full Length, 2020]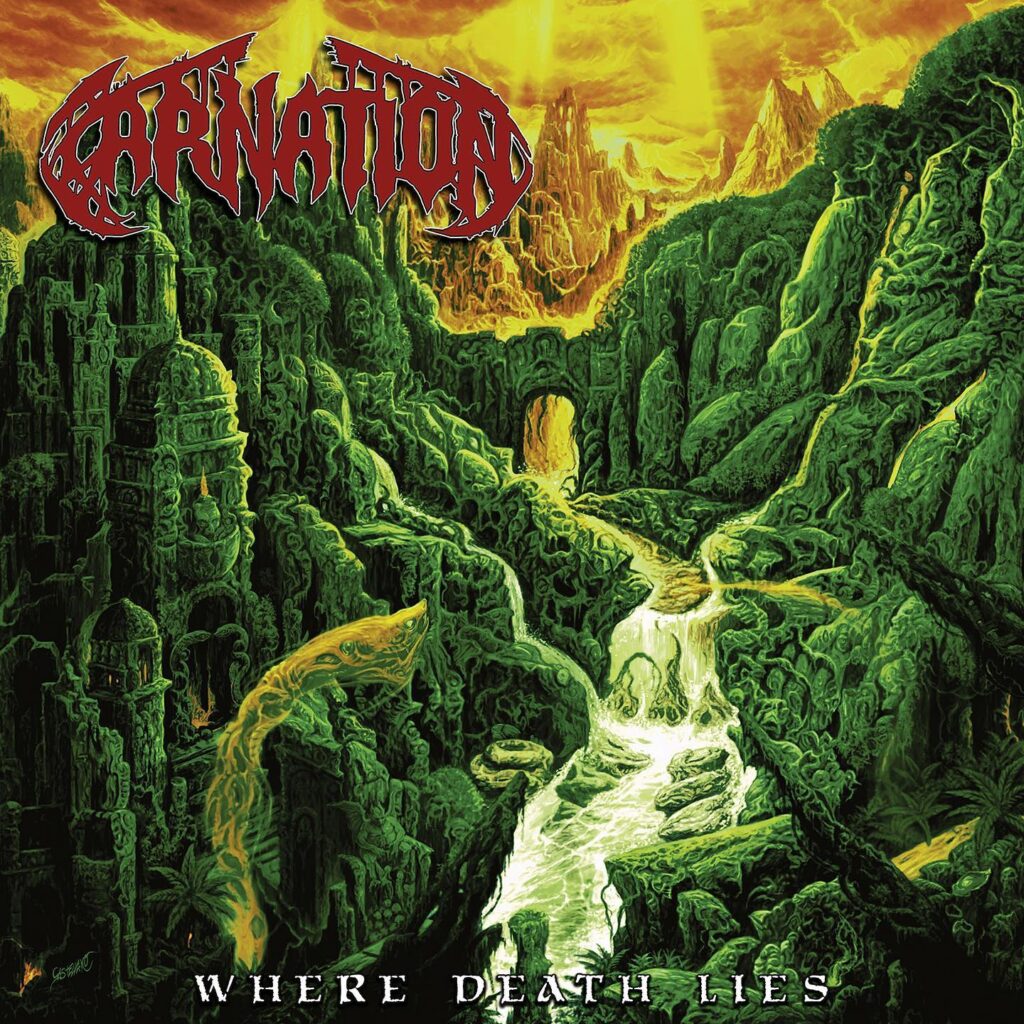 Saya tidaklah familiar dengan kebanyakan band Death Metal antarabangsa. Jadi apabila mendengar Carnation buat pertama kali, saya menyangka mereka band yang dah veteran memandangkan 'Where Death Lies' berbunyi seasoned dan padat! Rupanya ini adalah keluaran penuh mereka yang kedua dan diterbitkan Season of Mist.
Album 9 trek ini menghidangkan Death Metal yang takde nak berbasa-basi. Ini Death Metal yang Death Metal, tak perlu dicemari unsur-unsur tak perlu. Buktinya? 'Where Death Lies' tidak terikut dengan trend band zaman sekarang yang gemarkan intro + outro berbunyi ambient/noise/whatever sebaliknya terus menerjah dengan the uncompromised savagery of Death Metal. Dengan riffing yang terpengaruh dengan stail awal 90an, apatah lagi vokal throaty yang membawa vibe tough guy dan drumming yang ribut tanpa perlu nak teknikal sangat, jelas sekali Carnation adalah seperti kelahiran semula Death Metal era 90an yang ada masanya menampakkan kecenderungan untuk mengutip influence daripada subgenre Death Metal yang lain; Death/Thrash, OSDM, dan juga regional touch termasuk dari AS.
Where Death Lies sesuai untuk peminat Death Metal yang sukakan mereka yang frozen in time. Yang cukup rasa dan feel, tanpa kompromi terhadap unsur-unsur asing yang menjauhkan Death Metal daripada wajah aslinya di era 90an. Ini baru boleh cakap Death Metal or die!
Where Death Lies kini terdapat dalam format CD, piring hitam, kaset, dan muat turun digital.
FFO: Grave, Benediction, Unleashed