Woods of Desolation – The Falling Tide [Full Length, 2022]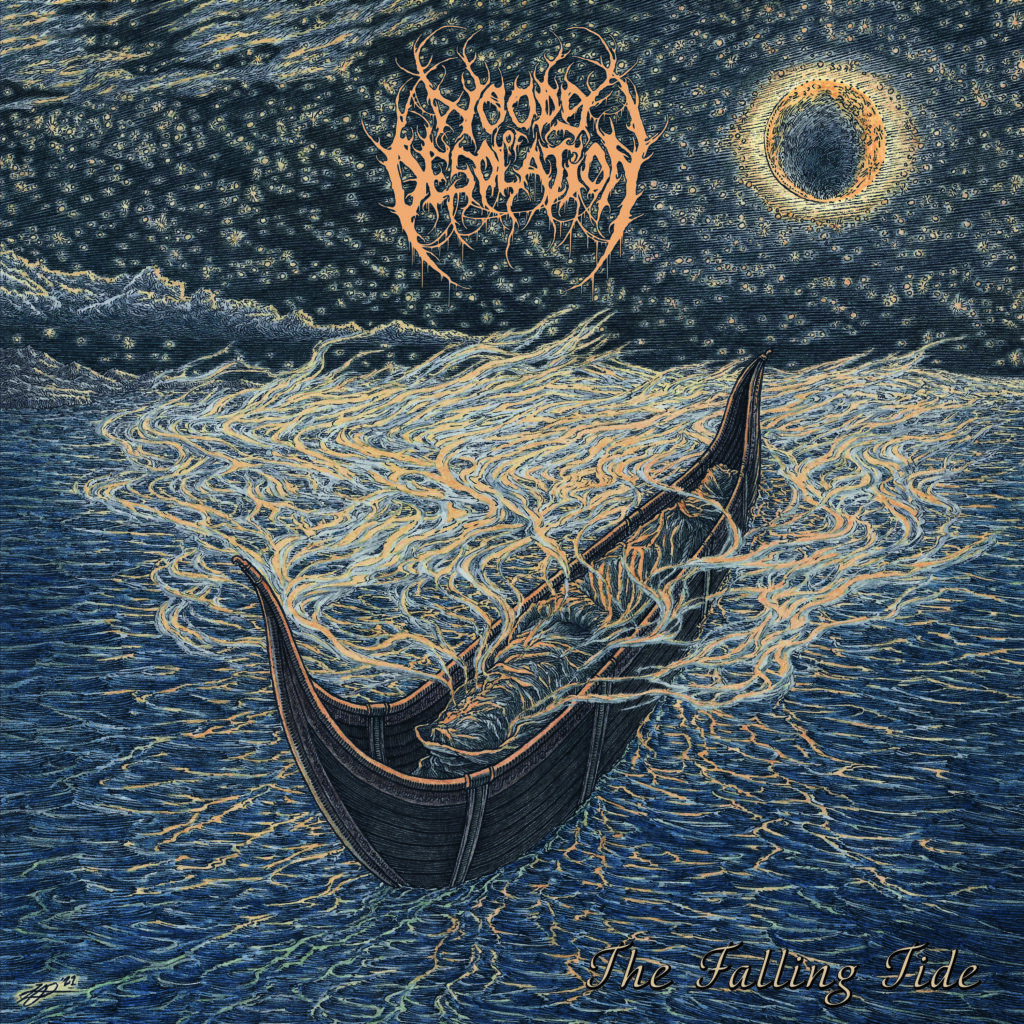 Veteran Atmospheric/Post-Black Metal Australia, Woods of Desolation baharu sahaja mengeluarkan album terkininya berjudul 'The Falling Tide' melalui Season of Mist. Ini merupakan follow-up daripada album mereka pada 2014 iaitu 'As the Stars…' namun hanya dibarisi D selaku gitaris/vokalis dan Vlad sebagai drummer/keyboardist.
Personally, saya memang menunggu-nunggu output terkini mereka, apatah lagi hampir 8 tahun menyepi tanpa album penuh (sekadar re-release keluaran lama). The Falling Tide mempunyai kualiti sound yang jauh berbeza dengan album sebelum ini. Jika As the Stars… mempunyai sound yang abrasive, wall of sound dan bergema, The Falling Tide adalah lebih bersih dan refined tanpa perlu menjadi overproduced. Sebaliknya The Falling Tide boleh digambarkan seperti slipping into a pair of old comfortable shoes; familiar, nostalgic dan Woods of Desolation yang saya tahu. Ia bagaikan mengimbau era Torn Beyond Reason yang kaya dengan elemen Post-Rock, Atmospheric Black Metal dan DSBM. Elemen sebegini melambung-lambung emosi kejap-kejap depressive, kejap rasa menerjah ke awan, kejap-kejap intense yang menjadikan The Falling Tide begitu menyeluruh.
The Falling Tide masih lagi mengekalkan trademark permainan yang berkecamuk antara Black Metal dan Post-Rock yang menjadikan album ini cukup accessible untuk saya. Ada ketika saya terawang-awang dengan feel sublime hasil riff berinspirasi Post-Rock, kemudian serta-merta saya menjunam ke gaung negativity dengan change of feel yang full-on Black Metal. It feels like a roller coaster like, malah it's a very Woods of Desolation thing. Lontaran vokal oleh D sekalipun masih kabur seperti vokalis sebelum ini, beliau membawa vibe yang painful dan seakan memberi tahu please end this suffering. The Falling Tide adalah terbitan Atmospheric/Post-Black Metal yang menepati expectation saya, although it could have been more dengan penantian hampir 8 tahun. Definitely an AotY untuk saya.
The Falling Tide kini terdapat dalam format CD, piring hitam dan muat turun digital.
FFO: Austere, Ghost Bath, Harakiri for the Sky, Groza, Vallendusk, Alcest