Invultation – Unconquerable Death [Full Length, 2022]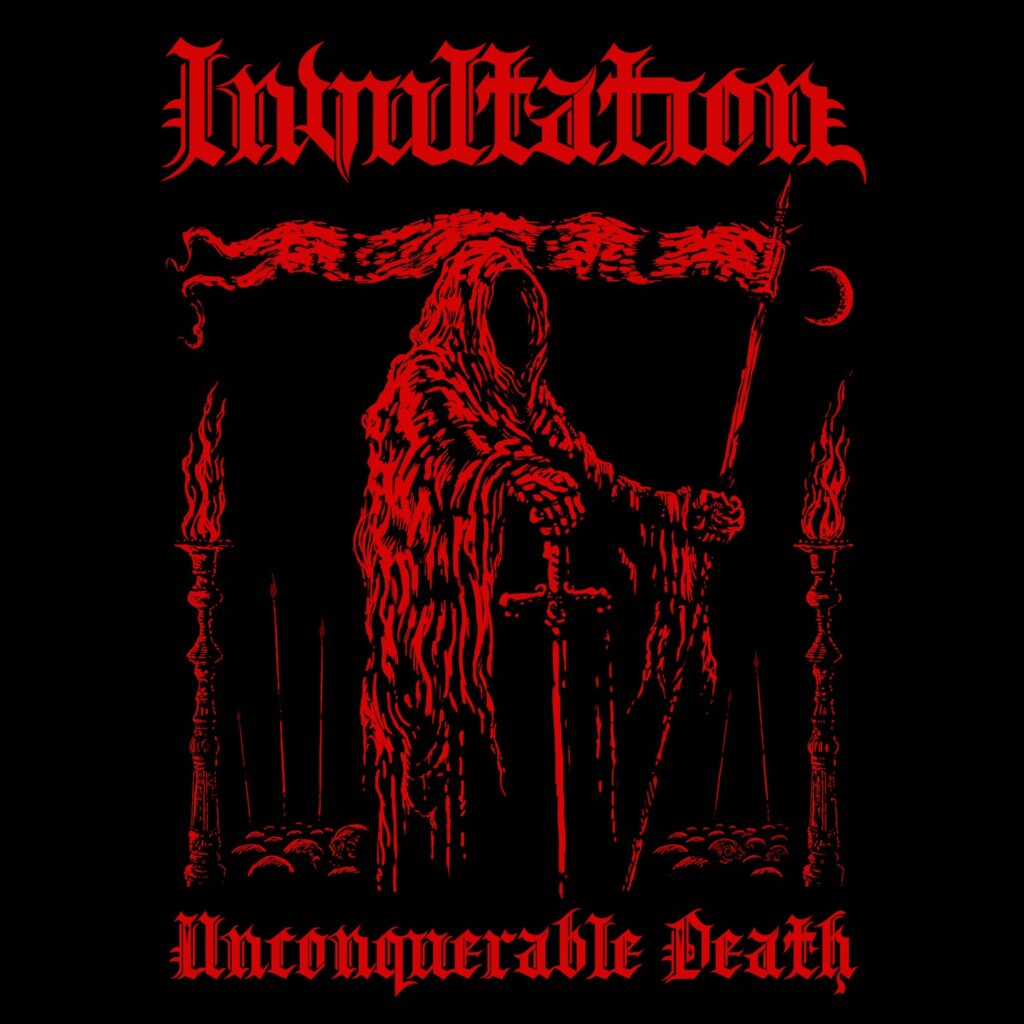 Black/Death Metal bukanlah genre yang saya cari bila mendengar muzik, namun ia adalah genre yang saya susah nak tolak didengar. Kebanyakan pendengar Metal maklum dengan stail genre yang barbaric dan relentless ini memerlukan acquired taste, kalau tak berdesing telinga nak hadam. Album terkini unit Black/Death AS, Invultation berjudul Unconquerable Death menawarkan pengalaman audio yang merabakkan muka dan menghenyak pendengaran. Album ini dikeluarkan melalui Sentient Ruin Laboratories.
Unconquerable Death menyajikan Black/Death Metal yang pekat ala Blasphemy, Archgoat, dan Revenge melalui execution yang meribut; drumming yang naik sawan, vokal yang bellowing, gitar yang memainkan riffs yang menampar-nampar pendengaran dan overall feel yang chaotic. There is no shortage of violent savagery ditampilkan dalam album ini, memandangkan setiap trek kian menjadi rabak menuju ke penghujung album. Saya fikir kredit patut diberikan kepada gitaris yang bekerja keras melampirkan permainan yang almost barbaric dan out of control.
Saya boleh membayangkan betapa chaoticnya kalau pergi ke live show Invultation. Bodies will be flying everywhere, tengkuk jadi patah lapan, confirm balik show merangkak akibat keganasan yang melampau. Pada saya, Unconquerable Death menepati ciri-ciri band-band Black/Death Metal yang biasa didengari. Sure, there's nothing new to it but oh my the intensity is what drives the album. It's a volcanic mess dan almost cathartic. Ugh!
Unconquerable Death kini terdapat dalam format piring hitam dan muat turun digital.
FFO: Archgoat, Blasphemy, Teitanblood, Revenge