GoreSkinCoffin – Release My Suffering [Full Length, 2022]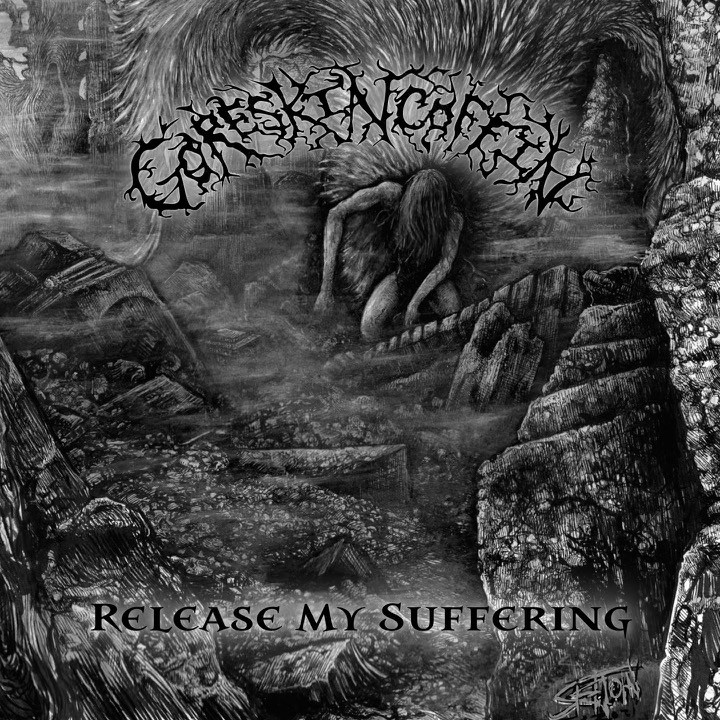 GoreSkinCoffin adalah sebuah unit Blackened Death Metal dari AS yang baru sahaja mengeluarkan album terkini berjudul Release My Suffering melalui Funeral Goat Records. Saya sebenarnya tidak berapa arif dengan gaya Blackened Death Metal dari belah sini. Obviously GoreSkinCoffin memainkan Death Metal yang bercampur-baur dari segi feel Black Metal selain ada bau-bau Technical di beberapa tempat, menjadikan saya susah nak point out influence GoreSkinCoffin. Band ini mempunyai sound yang complex namun mudah dihadam.
Namun Release My Suffering mempunyai masalah dalam placement trek yang berpotensi menarik pendengar, at least untuk saya. Dua trek pertama berbunyi just like any other Blackened Death Metal bands out there. Namun trek ke-3 dan seterusnya mula menarik perhatian saya dengan menggabung brutality Black/Death Metal dengan unsur dramatik melalui penggunaan keyboard. Malah songwriting terasa lebih fresh dan diverse towards the end of the album. Malah vokalis turut menyelitkan deep grunt yang berbunyi out of this world. Dram pula ada masa macam terkedepan sangat dalam mix, dengan blasting yang menenggelamkan instruments lain. Dan trek terbaik album ini sebenarnya adalah trek terakhir Lamentation for a Broken Angel yang cukup serba-serbi: riffing Black/Death Metal yang wicked, vokal yang alternate antara mid screams dan deep grunt, penggunaan keyboard yang dramatik seakan Behemoth bercampur Abigail Williams (era lama).
Hairan, they started rather weak in the album (berbunyi generic modern USDM) but ended pretty strong (lebih jelas menampakkan sisi Black Metal mereka). Saya kira it's just the matter of songs placement seperti saya cakap awal-awal tadi. GoreSkinCoffin mempunyai potensi untuk menjadi interesting dengan idea mereka, mungkin mereka perlukan masa untuk terus berevolusi. Ini adalah effort yang boleh tahan sebenarnya.
Release My Suffering kini terdapat dalam format muat turun digital.
FFO: Behemoth, Fleshgod Apocalypse, Sarmat, Vader