Golgothan Remains – Adorned in Ruin [Full Length, 2022]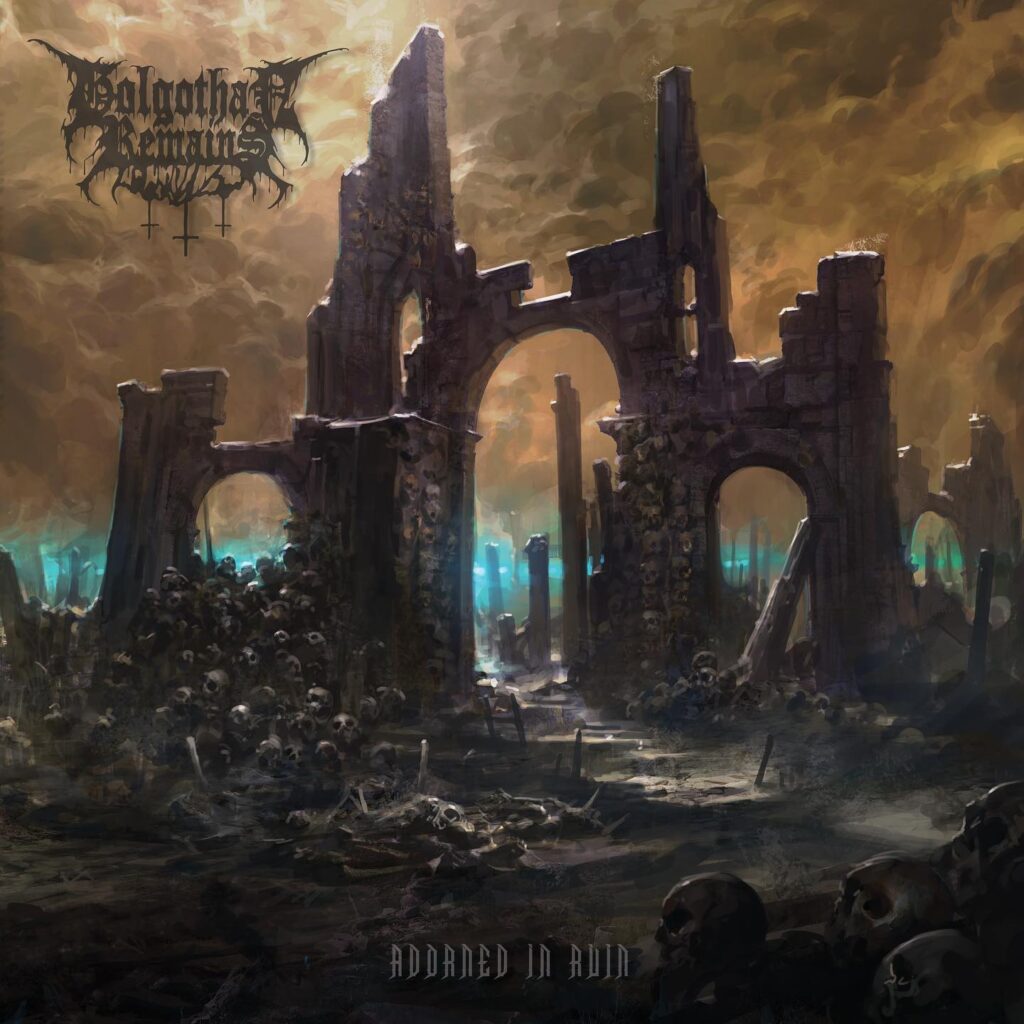 Scene Metal Australia sekali lagi membuat saya jaw dropped dan jadi 'oh damn'. Kali ni melalui terbitan penuh kedua Golgothan Remains, unit Dark Death Metal Australia yang berjudul Adorned in Ruin. Album ini diterbitkan oleh Sentient Ruin Laboratories dan Brilliant Emperor Records pada April 2022.
From the get go, ini adalah album yang punishing. Daripada riffs yang kejam dan sedikit dissonant mengingatkan bagaikan Incantation dan Ulcerate dipadukan bersama. Kemudian di diperhebat dengan vokal low snarling dan barking yang intense. Tak sah album Death Metal kalau takde drumming yang berpesta blastbeat kiri-kanan, which demonstrated nicely dalam Adorned in Ruin. Execution yang cantik dan jitu tapi tidak terlalu bersih membuatkan saya nak dengar lagi dan lagi. Saya agak tertarik dengan kualiti rakaman Adorned in Ruin yang agak kemas juga, jauh meleset daripada sangkaan saya yang ingatkan berbunyi murky dan barai. Sebaliknya semua instruments boleh didengar dengan jelas dan crisp clear… well, almost.
Disebabkan saya jarang mendengar material baru semenjak sebulan dua lepas, Adorned in Ruin sebenarnya agak lazat untuk saya hadam dan enjoy. Ia mengandungi nisbah savagery, violent tendencies dan perisa Death Metal jahat yang secukupnya untuk saya balun dengar dan hilang akal sorang-sorang. Untuk sebuah terbitan yang chaotic dan despite the lack of guitar solos (I probably missed), ini adalah sebuah album yang masyuk dilayan. Ganas sampai tercabut muka. Bawa-bawalah dengar dan get wrecked.
Adorned in Ruin kini terdapat dalam format CD, kaset, piring hitam dan muat turun digital.
FFO: Incantation, Immolation, Ulcerate, Abyssal, Deicide