Engutturalment Cepahaloslamectomy – Glam Not Slam [Full Length, 2020]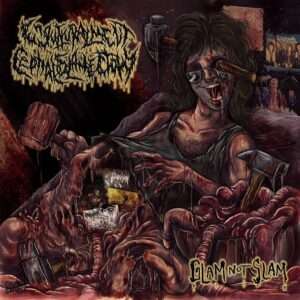 Terbitan band Slam Death Metal rata-ratanya menumpukan kepada description keganasan over the top dengan permainan chug chug berserta vokal umpama sendawa. Which is a no problem pun. Bagi saya ia enjoyable selain ridiculously brutal.
Engutturalment Cephaloslamectomy, band Slam Metal dari Indiana, USA ini baharu sahaja mengeluarkan album penuh sulung mereka berjudul Glam Not Slam melalui Gore House Productions pada 24 April 2020. Membaca title album dan lagu pun dah cukup buat saya keras perut. Tengok saja tajuk seperti My Studies at the Slamming Brutal Death University, Some Kisses, atau I Bless the Slams Down In Africa
Glam Not Slam adalah terbitan Slam Metal yang cukup perisa Slam tapi dengan over the top comedy. Essentially, ini adalah parody kepada over the top seriousness yang selalu kita nampak dalam mana-mana band Slam Metal; title lagu yang berjela dan almost scientific, takpun penuh deskripsi ganas melampau.
Saya tiada komen sangat tentang kemampuan muzik mereka. Gitar yang chug chug berat, breakdown merata-rata, snare drum nipis berbunyi tin, bass yang audible dan vokal sendawa kadang-kadang berbunyi khinzir. Cukup lazat.
Sebenarnya song titles lucu mereka takdelah beri kesan kepada whole album. In fact, kalau anda tak tau title pun, anda mungkin akan masih impressed dengan sound mereka. Confirm lyrics ganas! Or not… Siapa je faham vokal bree bree horrr horr!
Saya berpendapat Glam Not Slam mampu menepati selera kaki Slam Metal di luar sana. Takdelah seganas Devourment atau seberat Disgorge tapi untuk didengar sambil tergelak sorang-sorang boleh la rasanya. Pendek kata, anda masih boleh appreciate komedi tanpa perlu lose credbility sebagai mamat Slam yang tough. Show me the hammers!
Glam Not Slam kini terdapat dalam format CD, kaset dan muat turun digital.
FFO: Devourment, Disgorge, Party Cannon