Drawn and Quartered – Congregation Pestilence [Full Length, 2021]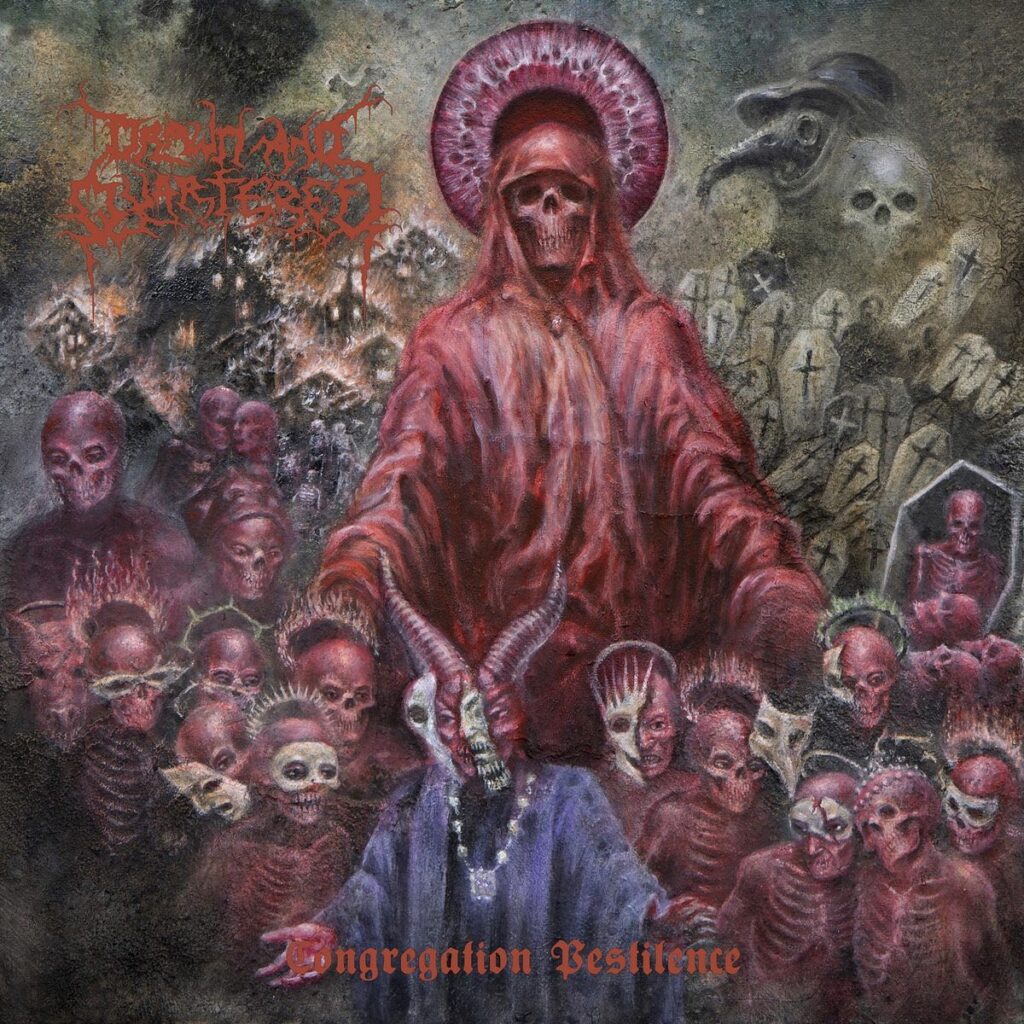 Unit veteran Death Metal dari AS, Drawn and Quartered telah mengeluarkan album terkininya berjudul 'Congregation Pestilence' melalui Krucyator Productions pada awal Julai 2021. Ini merupakan album penuh kelapan mereka yang menawarkan 9 trek.
Congregartion Pestilence sememangnya USDM in and out. Senang cakap, dalam nadinya mengalir semangat Death Metal Amerika yang thick, devastating dan garang tak terkira sebaris dengan Immolation, Morbid Angel dan Incantation. Sebagaimana kita tahu, ketiga-tiga lagenda ini membantu membentuk salah satu mazhab dan sound USDM yang distinctive melalui raging riffs, solo gitar yang meliar, tempo berdesup laju yang kadang-kadang menyerapkan tempo Doom yang merangkak dan vokal bak raksasa. Drawn and Quartered obviously tergolong dalam kategori ini; bertubi-tubi membedil pendengaran dengan sonic assault menggerunkan. Saya menyukai tone gitarnya yang yang distinctive disusuli dengan lead guitar yang meracau-racau melengkapkan pengalaman Congregation Pestilence.
Saya fikir antara outstanding part dalam Congregation Pestilence adalah apabila tiba-tiba saja tempo bertukar menjadi perlahan dan merangkak. Terasa ngeri betul ditambah pulak dengan vokal yang setiap masa menderam rendah dengan bahasa sukar difahami. Dalam aspek lain, ini adalah demonstrasi USDM yang masih legit dan alive, serta obviously cukup enak dinikmati. Kalau main live ni semestinya mat-mat Metal berterabur berlanggar sesama sendiri sambil kepala terbang menghayun sesuka hati. Urghhhh!
Congregation Pestilence kini terdapat dalam format CD, piring hitam dan muat turun digital.
FFO: Morbid Angel, Immolation, Incantation