Deadlight Sanctuary – Thaumaturgical Rites of the Damned [Full Length, 2020]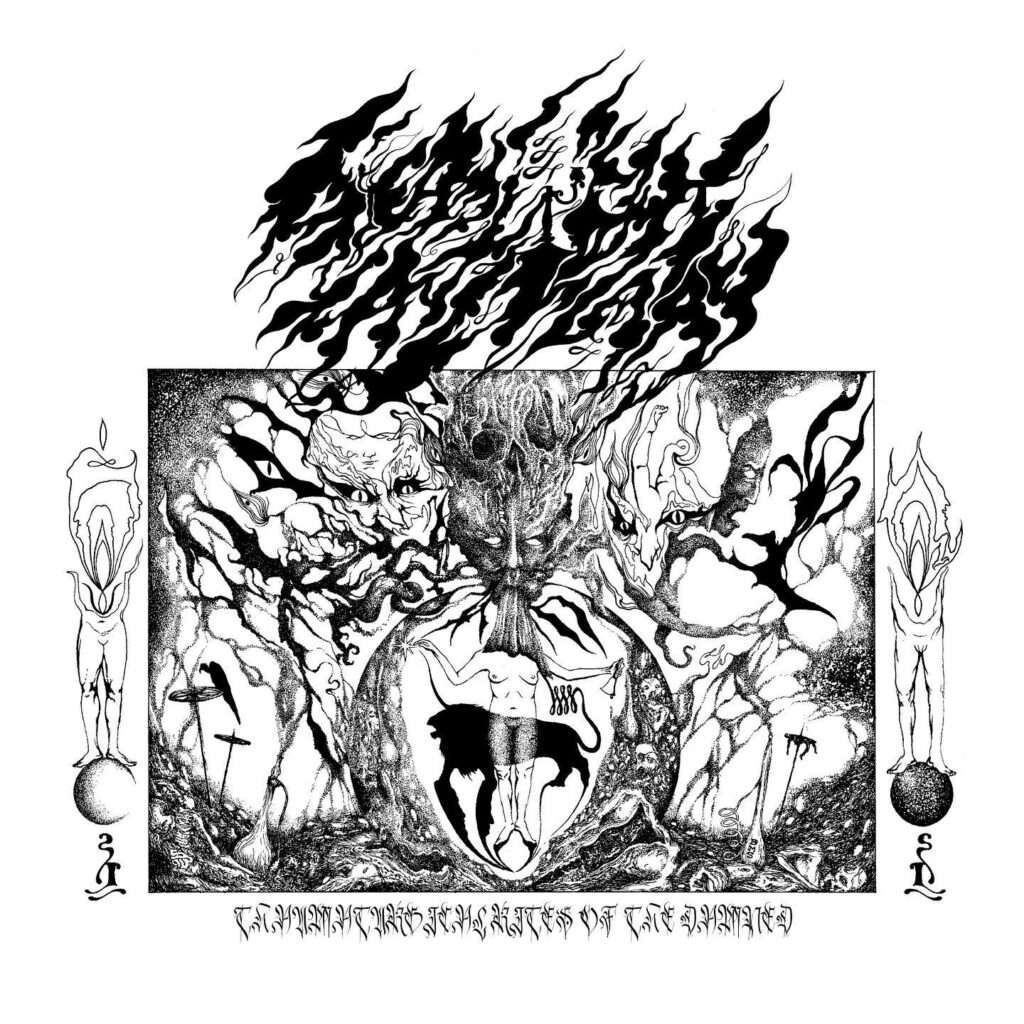 Jika anda mahukan Black Metal anda bercampur-baur dengan Doom Metal berperisa ritualistic, mungkin anda patut dengarkan album terkini Deadlight Sanctuary yang berjudul Thaumaturgical Rites of the Damned. Album ini dikeluarkan Sentient Ruin Laboratories dan Iron Bonehead Productions.
Stail Blackened Doom yang dibawakan sebenarnya memang terrifying and membangkitkan suasana upacara jahat. Ini dicapai dengan vokal berkahak dengan reverb pekat, downtuned buzzing gitar dengan crawling pace, keyboard dengan atmosfera yang terasa claustrophobic. Dram yang digunakan sangat jelas adalah diprogram atau digital, tapi saya tak hairan sangat pun kerana beat yang dimainkan tidaklah mencabar, kebanyakannya skank beat dengan occasional pedal berkembar membuat penampilan.
Dengan bunyi keseluruhan album yang muddy, bass heavy dan pekat, ini mengingatkan saya kepada Bazzah (era Kingdom of the Dead) dan juga Beherit (era Oath of the Black Blood). Saya kira dengan tempo yang sederhana ke merangkak perlahan, ia bertambah menakutkan, apatah lagi vokalnya yang bagaikan keluar dari perut neraka (ni saya agak la) membuat keseluruhan album ini terasa torturous. Jika anda menyukai album Black Metal yang membangkitkan rasa kehancuran perlahan, dengarkan Deadlight Sanctuary!
Thaumaturgical Rites of the Damned kini terdapat dalam format piring hitam, kaset, dan muat turun digital.
FFO: Beherit, Demoncy, Profanatica, Bazzah