Constellatia – Language of the Limbs [Full Length, 2020]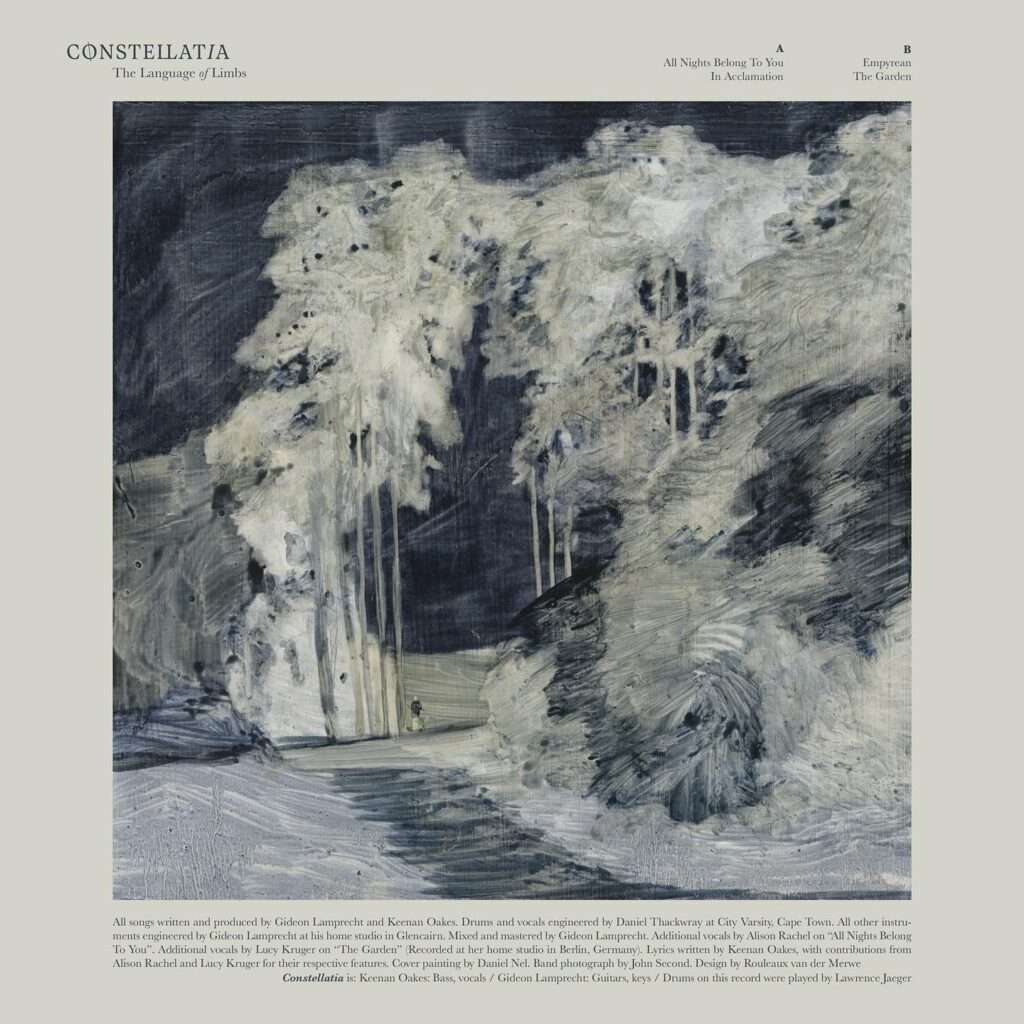 Blissful. Beautiful. Underlying chaos. Itu yang boleh saya gambarkan keluaran semula daripada Season of Mist ini. Constellatia merupakan band Post/Progressive Metal dengan sentuhan ambient dari Afrika Selatan.
The Language of Limbs menawarkan 4 buah trek yang panjang dengan durasi hampir 35 minit, namun terasa pendek dan tak puas dengar. Pertama sekali, saya terbuai-buai dengan sentuhan ambient dan post-Metal yang mengkhayalkan.
Malah, Language of the Limbs terasa lebih Post-Rock daripada Metal dengan build up dan atmosphere melambung-lambung yang mengingatkan saya kepada… contohnya, God is an Astronaut (sekadar tekaan, kaki Post-Rock sila betulkan) berbanding… ISIS. Saya memang susah nak cari perbandingan, sejujurnya.
Keduanya, saya merasakan mixing album ini meletakkan vokal di belakang, seakan menjadikan vokal sebagai instrument bukan untuk deliver lirik. Dan saya juga mendapati gitar elektrik sengaja dibuat kurang harsh dan punchy (tapi instrument lain jelas pulak) selain menggunakan vokal wanita untuk memberi feel ethereal. Saya mula menyedari The Language of the Limbs mempunyai feel iras-iras projek Post-Rock Afrika Selatan bernama Sondrous hinggalah saya teringat yang gitaris Constellatia, Gideon Lamprecht juga bermain untuk Sondrous! Patutlah!
Saya menyukai The Language of the Limbs secara amnya. Komposisi lagu terasa ditulis teliti, elemen yang bergabung terasa semulajadi dan build-up yang mengkhayalkan menjadikan ia boleh dilayan seorang sebelum tidur. Namun, saya merasakan kualiti produksi patut lebih peka, kerana keseluruhan album terasa tidak mempunyai depth yang sepatutnya untuk terbitan Metal. Tapi tak kisahlah, itu cuma telinga saya.
The Language of Limbs kini terdapat dalam format CD, piring hitam dan muat turun digital.
FFO: Sondrous, Cult of Luna, Pink Floyd, God is an Astronaut