Bloodfeast Ritual – Altars of Sacrifice [EP, 2020]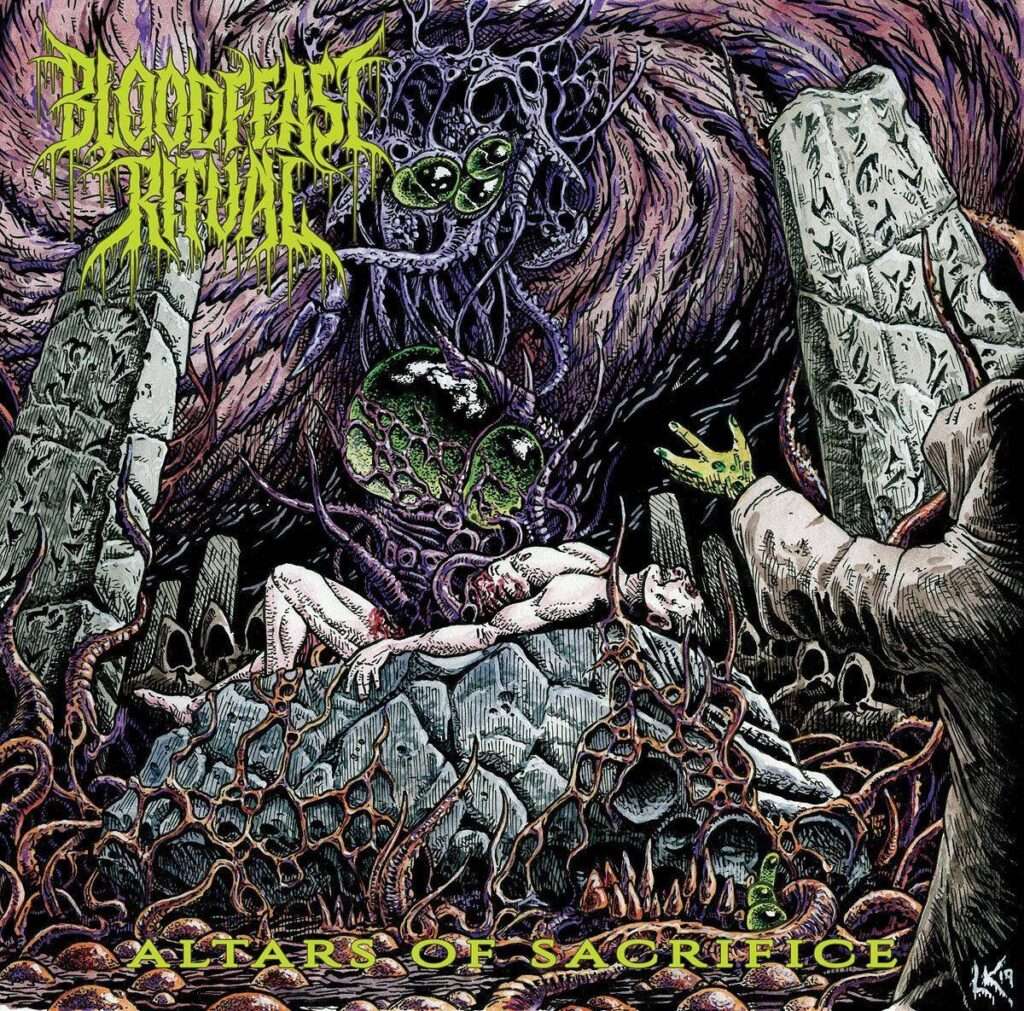 Saya sebenarnya tertipu dengan nama band ni. Punya la nama macam band Blackened Death Metal ala Blasphemy, rupanya bukan! Bloodfeast Ritual adalah unit Melodic Death Metal dari Los Angeles yang telah mengeluarkan EP terkini mereka yang berjudul 'Altars of Sacrifice'.
Sungguhpun mereka memainkan Melodic Death Metal, dan the fact mereka dari AS, mereka bukanlah seperti band-band Metalcore AS yang straight-up ripping riff daripada At the Gates dan tabur sedikit perisa Hardcore. Bukan! Altars of Sacrifice memaparkan Melodic Death Metal ala Arsis dan The Black Dahlia Murder dengan solo gitar shredding bagaikan di era kegemilangan Metal. Saya cukup tertarik dengan feel dan songwriting yang face ripping as heck dan tiada kompromi. Melodic tapi garang. Ditambah pula dengan vokal yang menderam dan drumming tight tak ingat punya, Altars of Sacrifice bagaikan mash-up antara intensity Modern Melodic Death Metal dengan virtuoso gitar era 80an. Kira ni macam formula untuk material yang headbang inducing la.
Altars of Sacrifice mempunyai dinamik yang mantap selaku sebuah EP dengan constantly brutal tanpa perlu ada trek perlahan ke apa. Tak payah semua tu. Memang jenis muzik untuk pecah muka dan berdarah-darah dalam moshpit (obviously, cerita lebat). Sekalipun kualiti produksi seakan tidak moden dan crisp, saya merasakan ia menepati intensity dan energy yang cuba dicapai oleh Bloodfest Ritual. Brutal atau mati saja!
Altars of Sacrifice kini terdapat dalam format CD dan muat turun digital.
FFO: The Black Dahlia Murder, Arsis, Death, Necrophagist