Aphonic Threnody – The Great Hatred [Full Length, 2020]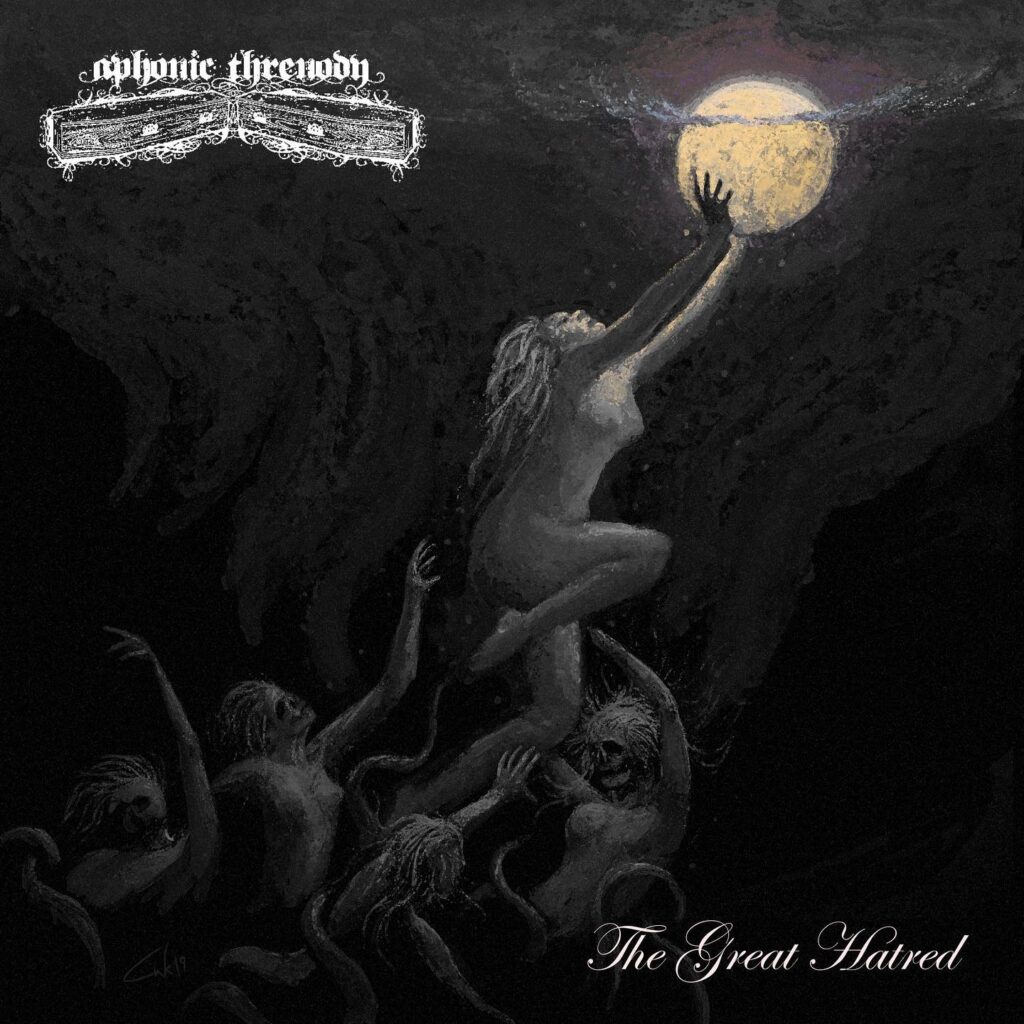 Aphonic Threnody ialah sebuah band funeral doom yang bersifat antarabangsa, di mana ahli-ahlinya datang dari Chile, United Kingdom dan Itali. Band ni dikira agak baru dalam scene; ditubuhkan pada tahun 2012 namun amat aktif meriliskan material mereka. Setakat ini, mereka telah menghasilkan satu EP, tiga split dan dua full-length album. Untuk tahun 2020, mereka menyajikan dunia dengan abum full-length ketiga mereka, The Great Hatred.
Jadi apa yang aku boleh katakan tentang album ni?
Riff city.
Riff city all day, errday.
Sumpah tak tipu, idea-idea riff mereka amat jitu dan melodic tanpa bunyi keterlaluan atau pointless masturbation. Setiap section digubah dengan tema yang sorrowful, dark and filled with despair yang tidak begitu over-the-top. Malahan bahagian clean vocals dan piano setiap lagu digubah seperti pelengkap kepada betapa heavy-nya riff mereka. Jujur aku katakan, walaupun setiap lagu mereka berlegar antara 8 hingga 11 minit, aku langsung tak terasa bosan mendengar album ini. No ear fatigue with this album dan itu satu pencapaian untuk album doom mmg slow pacing. Riff yang ditulis memang sesuai dengan citarasa aku; heavy but melodic at the same time.
Tambah sikit pasal vokal. The beauty and the beast style vocal dalam album ini memang padu. Death growl yang pada aku seakan-akan suara Aaron Stainthorpe (My Dying Bride) tapi lebih dalam, dipadankan dengan clean vocals yang mournful dan longing, melengkapkan lagi album yang padat dengan idea riff tidak cuba untuk menjadi different, and it works.
Kesimpulannya, aku berpuas hati dengan album ini. It is a straight, honest-to-goodness funeral doom album, dan walaupun ia mungkin agak stereotypical, tapi mereka berjaya menarik semua stereotaip funeral doom yang positif dalam satu album.
FFO: My Dying Bride, Anathema